BPS DENTURES : ITS TIME FOR CHANGE !
ARE YOU TIRED OF WEARING ILL FITTING DENTURES ?
Dentures that are not fit properly can rub on the sensitive gums, causing mechanical irritation underneath the dentures. Over time, this chronic irritation can cause inflammation of the mouth and lips called stomatitis.
The Biofunctional Prosthetic System brand denture includes a comprehensive technique for impressions, record taking, tooth placement, fabrication and processing. BPS system uses a controlled heat/pressure polymerization procedure during which time the exact amount of material flows into the flask to compensate for shrinkage, which ensures a perfect fit.
ARE YOU WORRIED OF UNNATURAL DENTURES?
You may feel the denture doesn't look right because of things friends or relatives have said- the teeth are too big or small, too light or dark, you show too much tooth or too little, they are too even or too irregular, the lip may be too bulky or not supported enough, the colour of the denture base (gum coloured acrylic) may be felt to be unnatural – any number of possibilites.
BPS denture meets the esthetic demand of patients with its unique Ivoclear teeth, which replicate anatomy of the natural tooth Ivoclear teeth are made up of 3 layers of cross-linked acrylic resins that contribute to a life-like appearance and resistance to wearing.
ARE YOU WORRIED OF COMPLETE LOSS OF YOUR TEETH ?
Complete dentures are replacement teeth for when all your natural teeth have been removed. It comes in two types. You can wear immediate complete dentures for a couple of months while you wait for your gum tissue to heal. After that, you can get conventional complete dentures.
DENTAL IMPLANTS
Dental implants have revolutionized the replacement of teeth. Think of dental implants as artificial tooth roots, similar in shape to screws. When dental implants are placed in your jawbone , they bond with your natural bone. They become a sturdy base for supporting one or more artificial teeth, called crowns. When performed by a trained and experienced dental implant dentist, dental implant surgery is one of the safest and most predictable procedures in dentistry.
DENTAL CROWN AND BRIDGE
Bridges and crowns are fixed prosthetic devices that are cemented onto existing teeth or implants by a dentist or prosthodontist. Crowns are used most commonly to entirely cover or "cap" a damaged tooth or cover an implant. Bridges are commonly used to cover a space if you're missing one or more teeth.
DENTAL VENEERS
Veneers are thin coverings that are placed over the front (visible) part of the tooth. They look like natural teeth. Veneers can be used to correct a wide range of dental issues, such as: teeth that are stained and can't be whitened by bleaching.
FIXED REMOVABLE DENTURES
A precision attachment denture is a kind of RPD that contains precision attachment(s) to lock the denture onto the natural teeth. Precision attachment dentures are made up of two components. The 'male' part is fixed to the natural teeth and the corresponding 'female' section is incorporated into the denture.
Dr.G.NAVEEN KUMAR MDS has done his masters in Prosthodontics, he has undergone extra training for a period of three years in the field prosthetic dentistry. He specializes in Implantology, B.P.S. Dentures,Crown and bridge,Smile Makeover & Full-Mouth Rehabilitation.
COSMETIC DENTAL FILLINGS
Tooth-colored fillings are now used more often than amalgam or gold fillings, probably due to cosmetics. In a society focused on a white, bright smile, people tend to want fillings that blend with the natural color of their teeth. Dental fillings are generally advised for teeth which are infected with dental caries where the cavity is confined to enamel and dentin. Once the caries progresses to third layer of tooth i.e dental pulp then infectedteeth has to be root canal treated.Ultimately, the best dental filling is no dental filling.hence we encourage our patients to have a regular dental visits to avoid unwanted dental treatments and to detect the disease at the earliest stage which prevents the patient from any aggressive and expensive treatments
SINGLE VISIT ROOT CANAL TREATMENT
Single Sitting Root Canal Treatment is one of the most advancing treatment modality of Endodontics. After removing the infected dental pulp the canal is bio-mechanically prepared with a dental file to shape and clean the canals of root. After that the canal is filled with the gutta percha material and sealed.
DENTAL POST AND CORE
post and core crown is a type of dental restoration required where there is an inadequate amount of sound tooth tissue remaining to retain a conventional crown. A post is cemented into a prepared root canal, which retains a core restoration, which retains the final crown.
SCALING AND POLISING
Dental scaling and polishing is the removal of plaque and tartar deposits built up on the teeth and the polishing of the smooth surfaces of the teeth. This procedure is conducted during routine cleaning (prophylaxis) at a visit to the dentist. Depending on your oral health, you may need to get your teeth cleaned every six months.
Gingival Curettage
Gingival curettage is a surgical procedure. designed to remove the infected gum lining & infected root surface of the tooth with a curet.
FLAP SURGERY
You may need surgery for severe gum disease (periodontitis) if it cannot be cured with antibiotics or root planing and scaling. A flap surgery procedure cleans the roots of a tooth and repairs bone damage caused by gum disease. A gum specialist (periodontist) or an oral surgeon often performs the procedure.
GUM DEPIGMENTATION
Gum pigmentation is caused by melanin and melanin is a natural substance in our body that we find in freckles, sun spots, age spots. .Unfortunately, some people have an overproduction of melanin in their gums. Discoloration may also be caused by long term use of certain medications.
Gum depigmentation, also known as gum bleaching, is a procedure used in cosmetic dentistry to lighten or remove black spots or patches on the gums consisting of melanin.
METAL BRACES / TRADITIONAL BRACES
Traditional metal wired braces are stainless-steel and are sometimes used in combination with titanium. Traditional metal braces are the most common type of braces. These braces have a metal bracket with elastic (rubber band) ties holding the wire onto the metal brackets.
METAL BRACES / TRADITIONAL BRACES
Traditional metal wired braces are stainless-steel and are sometimes used in combination with titanium. Traditional metal braces are the most common type of braces. These braces have a metal bracket with elastic (rubber band) ties holding the wire onto the metal brackets.
CERAMIC VS METAL BRACES
Metal and ceramic braces function the same. Each type applies pressure to the teeth causing the teeth to move over a period of months or years. On average, this can take about one to three years.However, if you're concerned about your appearance during that time or your child is looking forward to an event, the key difference is that metal braces have metal brackets whereas ceramic braces have brackets that blend in with the color of your teeth. But you should consider that both are attached with metal alloy wire, so the wire will always be visible when smiling
LINGUAL BRACES
Lingual braces have the same components as conventional braces, but they're fixed to the back of your teeth, on the tongue — or lingual — side of the teeth. Because they're behind your teeth, they're nearly invisible.
CLEAR ALIGNERS
CLEAR ALIGNER has been developed especially for treating adults and allows aligning your teeth in a smooth way – without clasps, screws or brackets. Instead of metal elements you'll be wearing a biocompatible resin splint, almost unnoticed by your surroundings. The splint can be taken out and cleaned easily at any time.
OUR orthodontist will fabricate your CLEAR ALIGNER splint individually. During the treatment, the splint will be exchanged several times, guaranteeing that each splint will be adjusted to your individual treatment progress and that your teeth are corrected smoothly step by step. Your benefit: An extraordinary comfortable way of aligning your teeth and optimal treatment results at the same time.
PEDODONTICS & PAEDIATRIC DENTISTRY
SPACE MAINTAINERS
Space maintainers are appliances used in the mouth to preserve and maintain space. They are necessary when one or more primary molars have been prematurely lost due to trauma or disease. Using a space maintainer allows the permanent teeth to erupt, or grow, into the correct alignment with proper tooth-to-tooth contact.
PULPECTOMY & PEDO CROWNS
Pulpectomy is usually performed in children to save a severely infected baby (primary) tooth, and is sometimes called a "baby root canal." In permanent teeth, pulpectomy is the first part of the root canal procedure.  Your child may need a root canal if the tooth is damaged due to trauma  or infected with dental caries.
Stainless steel crowns (SSC) have been a very successful treatment modality in pediatric dentistry. Stainless steel crowns are silver caps that cover the whole  baby tooth. Our goal is to restore the health of the tooth for   longevity. We place crowns on first baby molars that have decay in between the teeth, or on teeth which are too damaged to be repaired with fillings or on teeth which are root canal treated.
HABIT BREAKING APPLIANCE
Tongue thrusting and thumb sucking are the most commonly seen oral habits which act as the major etiological factors in the development of dental abnormalities.
The longer and harder a child sucks his thumb the more harm is done to the teeth and jaws. Regular, strong thumb sucking makes front teeth move and can even reshape the jaw bone. Upper front teeth flare out and tip upward while lower front teeth move back and inward. Sucking on a thumb, finger, or blanket may be noted in preteens, teenagers and even adults.. In order to control such routines, separate appliances are designed and manufactured. These appliances are known as habit breaking appliances. These appliances can either be of removable or fixed type. The initial orthodontic treatment is the same for all i.e., placement of a crib to break the habit
ORAL & MAXILLOFACIAL SURGERY
TEETH EXTRACTIONS
Extractions are performed for a wide variety of reasons, but most commonly to remove teeth which have become unrestorable through tooth decay, periodontal disease, or dental trauma, especially when they are associated with toothache.
However, when the removal of infected teeth is delayed or neglected , you may experience some of these signs or symptoms:
Red or swollen gums.
Tender or bleeding gums.
Jaw pain.
Swelling around the jaw.
Bad breath.
An unpleasant taste in your mouth.
Difficulty opening your mouth.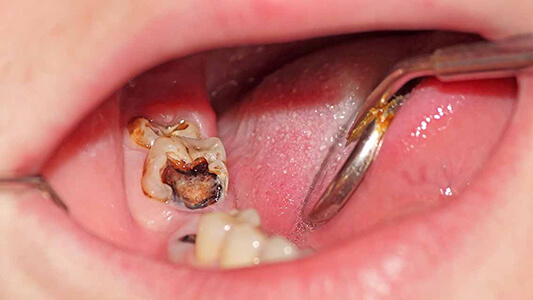 IMPACTED WISDOM TEETH EXTRACTIONS
One of the most common teeth to require extraction is wisdom teeth. These unnecessary third molars erupt the gum line later in life, normally between the ages of 17 and 25. When wisdom teeth begin to emerge, they often come in sideways or crowd existing teeth.  They can become impacted into the gum tissue and lead to infection, too. If a patient waits too long to have wisdom teeth extracted, these teeth can severely affect the alignment of teeth and produce moderate facial pain and toothaches. Furthermore, it is best to extract wisdom teeth as soon as possible before their roots are firmly established in the jawbone. When it comes to extractions, our skilled team of oral surgeons take great care to ensure that our patients enjoy a comfortable and relaxing visit to our office.
INTERMAXILLARY FIXATION & BONE PLATING FOR FRACTURED JAW BONES
Mandibular fractures are one of the frequently occurring injuries of the facial skeleton. Road traffic accidents, interpersonal violence, industrial accidents are some of the common reasons. From the time of Hippocrates, physicians described many different techniques for treating mandibular fractures, the principle of which was repositioning and immobilisation of the bony fragments Intermaxillary fixation is a method of treating mandible fractures . Newer techniques used for intermaxillary fixation are self drilling screws which prevents binding in the bone and dimac wires which demonstrate less needle stick injuries in comparison with arch bar.